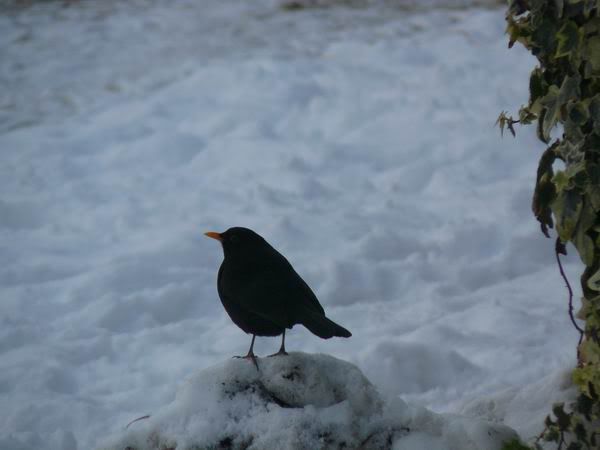 When winter laughs at her icy secrets,
and blows her ragged skirt,
Rose, once adorned in red velvet,
whispers, "I was a queen."
Winter howls and her branches droop.
But blackbird arrives, festive as ever,
his shiny black cloak,
smoldering up her cold limbs.
He sings of spring; aromatic orchards bursting into bloom,
and bees murmuring while sipping nectar.
He plays his flute like a gentleman.
"I know you, Rose," he trills.
"You are lovely and delicate.
Ignore crackly old winter."
Rose weeps at blackbirds melody,
there through sunlight and shadow,
in velvet and rags,
he adoring them equally.
As he plays for her, snow tiptoes down,
coloring him white.
---
I've never met a garden I didn't like, although some I've taken to more than others. Growing up, we always had a huge vegetable patch, which we had to toil in, so on hot, sweaty days I didn't favor that kind.
There is another variety, though, I've never minded working; the flowery, delicate garden. Even better are those brazen sweeps of color erupting in lonely fields, nothing but Mother Nature cradling and kissing them. They are wild and raw and turn your head affairs. If your car windows are down, you can sometimes detect the smell of cherry licorice or cloves, the air thick with scent. They shock and awe us. Rattle us awake. Like a little kid they shout, "Look at me! I made this just for you." And we are left gaping.
I'm never more alive when I discover a field bursting with Indian paintbrush, like millions of ragged orange tubes of lipstick smearing the landscape. Or purple Popsicle bluebonnets, tinged with vanilla on top. And a dirt floor of Queen Anne's lace, winter white fancy skirts on long, scrawny legs, dancing real slow as far as the eye can see.
Recently, in Vermont, I happened upon these amazing trees, decorating old cemeteries, limbs screaming with creamy white and pink buds. They look like lilacs, but not quite. Maybe someone will recognize this lovely thing by the picture I took.
Today I discovered a wild patch of black-eyed Susan's, mingled with cedar, along a busy roadside, putting on a lavish butter yellow show. Tall and regal, they exploded in the sun. These tickets were all free. Joy comes in all kinds of packages, but I prefer my gifts from a Garden in the Wild.
---