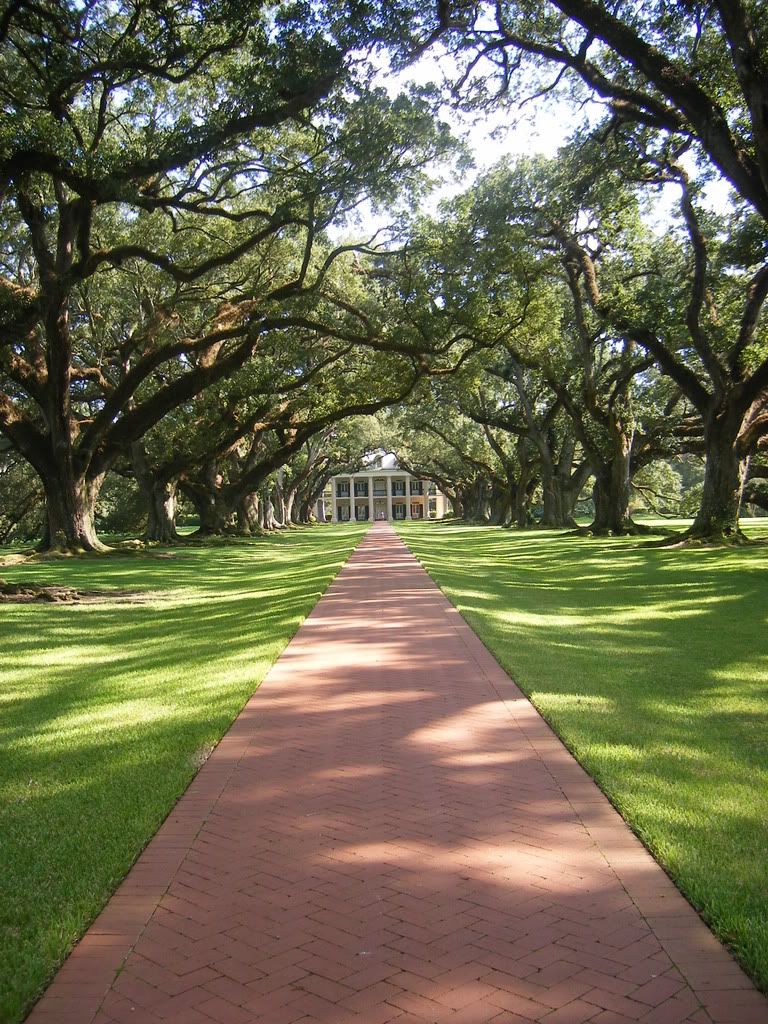 Testing, testing, can you guys hear me? I couldn't think of a snappier way to present sound than a recent trip to southern Louisiana.
In New Orleans the decibel levels flew off charts, right along with history, dog ugly and gorgeous as any I've ever heard. Even so, I relished the whole Who Dat and Zydeco music and the waitress named Nicole but pronounced Ne-cole. Her inflection piped out like a shot of New York swirled with Louisiana Creole. I kept asking her questions, well, because I'm irritating that way, and because I adored her voice.
"Why y'all don't vee zeet more?" she finally said, grinning.
Ne-cole, Ne-cole, Ne-cole. A charming sport if I ever met one.
The sounds of New Orleans were spicy crazy indeed. In the streets were drummers, harmonica players and clacky washboard renditions. People were chattering like squirrels, their shoes popping on sidewalks.
In Café Du Monde, we finally plopped down, legs worn and feet aching from traipsing every inch of the French Quarter and miles beyond. I figured I'd earned myself a beignet, snowed under with powdered sugar and washed down with a café-au lait. Spoons were clinking against glass coffee cups while sugar buzzy conversations exploded, and underneath that, the sigh of our pooped waitress, trying to keep up. A fat tip was in order, which made her smile.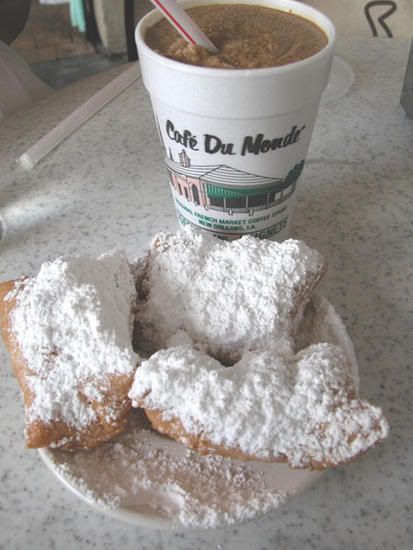 So, two days later, I listened to Creedence Clearwater Revival in the car as we headed to St. Francisville, because it would have been a sin not to hear Born on a Bayou if one is going to hang out with gators and Cajuns. And because I'm a Creedence groupie.
Visiting here is like stepping on ancient, exotic soil. Did you know even history has sound? It wails and screams and laughs here in the wind, the birds and bayous.
Three times now I've come to this place, trying to grasp a tragic and mysterious chunk of history. Bits and pieces the land has absorbed and yet shouts through the live oak trees. But none makes sense, nor do I condone it. Meanwhile I fancy the people and appreciate the beauty of place. And I remember those without voices and try to honor them with my presence. My heartfelt interest.
The following poem is based on a cemetery we visited while staying on plantation grounds. It was only one visible record, but there are still many loud secrets. Listen for sound in silence.
Fallen Stars
They have gone silent and cold
yet I heard a woman's voice
in a crows cackle
calling
suppertime…suppertime…suppertime
But that can't be
sixteen souls long hushed
resting like whispers in black dirt beds
on loud property
they didn't have time to praise
Days booming with tears and laughter have passed
no more spring afternoons, summer days
snappy fall breezes
or horizons
blazed with red
They lie silent atop a hill now
ringed by a stone wall
gray and chipped
shaggy cedar to ward off sun
and pine silt carpet for decoration
I traced their names with fingertips
when the sun was blooming
and remembered those I never knew
Marguret, Thomas, Mary, Edward, Sarah, Percival
and the others
Then when night turned to coffee
we walked through crispy grass
flashlights beaming
sky flushed with hot stars
now fallen icy atop the hill.
Bonjour Mes Amis- Good day, my friends. Listen well.
---
When my middle child-a mama's girl- started kindergarten, she clung to my waist like lichen on stone. The separation for us was painful, me leaving her, crocodile tears in her eyes, a little waif dressed in tiny jeans and a yellow shirt sprinkled with daisies. I'd done my best to prepare her. She'd been to Pre-K and had play dates. But this little sensitive, towheaded girl still resisted leaving her mama. Out of desperation, before we left the house, I put on red lipstick and kissed her soft, dimpled hand, leaving my lip-print like a colored picture.
"There," I said. "When you feel sad or scared, look at your hand and mama will be there."
I still remember how delighted she was, as though I'd plucked a secret star fresh from the sky and placed it hot in her hand. To her, it was the most famous kiss in the world. For a month after she never left for school without that lipstick kiss. Yes, her eyes still filled with glassy tears but then she'd stare at her hand, unscrew her grip, squeeze me tight and bravely walk into her classroom, carrying her Pink Flintstones lunch box.
Ironically, this mama's girl has gone off to college twelve hours away and although I miss everything about her, the way she kissed my cheek before leaving for her daily adventures, is what I miss most.
We crave touch. Some need more than others but our skin is hard wired for it. Have you ever had a hot stone massage? If not, get yourself over there as quick as possible! I've had one but want more. Let me describe.
Flat, slick rocks are heated, while you lay like a bird without plumage between cashmere soft white sheets, woodwinds in the air, the scent of lavender or patchouli piped in. The world drips away. The hot rocks are then placed down your spine, which further melts you like butta. Drenched with warm oil,they are then whirled, looped and kneaded with delicate intuition over every inch of skin you own and in the end you're left on the table like a lump of sensual bread-dough, covered up and left to rise again into something gorgeous.
Warning:
You won't be worth a flip the rest of the day. I lay about like the Queen of Sheba, pink skinned, drinking Bud Light, okay wine, and eating butter-cream chocolates and watching sappy movies, thanking the universe, my family, the masseuse, everyone and his brother. Ahhh……. We can all take a day off from the world occasionally. And should.

Me being rather curious and chatty- even during a massage, but not through all of it, I swear- I asked my masseuse about her profession. Did she enjoy this, did she feel it was her calling and was it hard for certain people to relax and allow a stranger to touch them?
She told me she could feel, by touch alone, a person's essence. She knew whether they were joyful, depressed, or in pain, emotionally or physically. "The elderly bring me the most sorrow and joy," she went on. "Some have not been touched in so long and are in so much pain it brings them to relieved tears. What a powerful, magical gift, given and received.
Touch your stories. Touch people's lives. Leave your lipstick kiss upon the world.
---
Last night the full moon appeared like a flamboyant floodlight. It seemed to echo, "Is anyone alive down there…down there…down there? It is I, floodlight moon." It appeared close but was actually 238,857 miles away! Our eyes can play tricks on us.
Even so, they are rich visual collectors. Two blue, brown, hazel or green mini artists, taking in life portraits, freeze framing them into memory the way paint adheres to canvas. A scoop of bangs across a forehead, inky black like a raven's wing, dead leaves twirling on bare sun drenched branches or snow swelled on the ground like thick, whirled whipped cream.
I remember seeing my newborn daughter's eyes for the first time. Like soul windows, new, but ancient and full of penetrating light. When they lay each in my arms, of course in different years, their haunting eyes explored mine, speaking without sound. Why hello dear mama, they seemed to say. I've felt your heartbeat and heard your cries and laughter a thousand times. Here you are now. I see you. They knew me and I them. Any mother can tell you how poignant this is. It is something we never forget, this lavish visual communication without words. I promise not to mention babies anymore, but I do love them.
Eyes alone speak of innocence, pain, sadness, joy, confusion, wildness and sometimes evil, all without saying a word.
If we have been blessed with our vision intact, our brain does the work of preserving previous sights into memory. I can still see the metallic shimmer of dollar sunfish, greasing through an Arkansas River, sun catching the star-burst of yellow bellies. And creamy vanilla colored jack-in-the-pulpits, glazing up an Illinois spring forest we wandered through as children. And red-winged black bird eggs, pale blue-green and freckled, cuddled tight in marshy nests.
It's exciting to use this visionary sense in our writing. Here's an example from my WIP, The Passion Diary.
Driving through Millview, men with wilted faces sat outside Hunters Gas Mart. On splintered wooden benches some whispered and whittled while others stood, eclipsed by smoke clouds wafting from lit points of cigarettes. The locals referred to the spot as Limber Dick Corner. God help me, I didn't want to grow old.
Turning down Main Street, earth rose behind ancient buildings, disguised in fresh paint. Brambly blackberry vines clamored up a long row of fence, berries dangling and not yet flushed purple. Trees, heavy with green foliage, clung to hillsides and I wondered what was blending and dashing through not visible to the naked eye.
This is pure visual description and why I wanted to use it as an example. I could go back and add smell-the soil, cigarette smoke, etc…  I could also throw in taste-of the eventual ripened berries, but for these paragraphs I probably won't.
Hopefully, if I've done my job well, sight alone tells you this is a small town with old secrets.
So, my writing buddies, please enjoy every visual treat this week. Remember, seeing is believing…sometimes.
---