To me, being in a wild world with so many sights, sounds, odors, tastes and textures is a little like walking down dusty paths of a renaissance festival and being bombarded with the scent of apple dumplings and roasted turkey legs while my ears buzz with pan flutes and tambourines, all as I'm touching velvety lamb's ears and then hard, exotic handcrafted jewelry. But there is more. Yes, taste, we must include that. How about fresh corn crepes smothered in cream and then chocolate doused strawberries for dessert?
Oh, enough, enough! I'm ready for a festival, how about you? Yeah, I know. It's still too cold. Until then, I'll attempt to warm up our rich creamy layers of writing. Each post will focus on a different sense and I might even bring in that rowdy SIXTH SENSE to round everything up. Okay lords and ladies, let's begin with scent, shall we?
What is that smell?
What springs to mind here are Sunday suppers, pork loin dotted with rosemary, the scent of raisins and stuffing and spice exploding each time the oven door opens.
Aroma's, rather delightful or not, invoke memories.
If you have a keen sniffer, you might also be able to detect a storm before it arrives. The earth is different then, soil sighing and humidity yelling. Did you know moisture heightens our sense of smell? It does. And were you aware women have a keener sense of smell? They do. As we age, our sense of smell weakens, though. Middle age is peek smelling season. I vote we all stay middle aged. Oh, wait, too late for me.
Did you ever notice that houses have layers of odors? I remember an old farmhouse we lived in, which smelled of plants, laundry detergent, and an undercurrent of all previous owners combined. It's as though scent embeds itself into walls and floors.
In developing characters and their environments, we can see how smell could be a vivid way to make a story breathe. If we are writing about a house full of men, scents will be different. I'm telling you,I know these things. I have brothers. The masculinity, shall we say, does shout smoke, spice and sweat.
On the other side of the road, where mostly females reside, you'll find the staggering scents of cinnamon, lavender oil, powder, perfume and candles. Of course there will be fruity odors mixed in and funky, too, depending on whether they keep a clean house and if they cook.
So, if we want our characters to live and remember that they have lived, scent is one worthy tool. It is exactly why, when I smell baby powder, I can be yanked back to a morning, fifteen years ago, baby on my lap. She has just finished her oatmeal and given me an open-mouthed kiss on the cheek, leaving a smear. There is sticky oatmeal in my hair, too, left from chubby fingers grabbing to draw me close. I can still hear her coo at the birds, so early my eyes are barely slit open, but yet I'm chattering to her and overwhelmed with tenderness. Yes, baby powder can snap me back that fast.
Our world is one big, smelly memory.
This week I'm taking my basket of scent and sprinkling it throughout my work. How about you? What particular scent fires up your memory?
---
Since I've been in bloggerland, I've felt a little like Alice, falling down the rabbit hole and discovering wonderland, although I might well be the Caterpillar. Oh, wait, the caterpillar was a male, who sat on his mushroom and liked to tell Alice how to grow and shrink. Remember his phrase: Whooo…are…you? Well, I do know who some of you are and I'm sure to meet many more delightful characters along the way. One never knows if they'll discover the real Alice, the Mad Hatter, Queen of Hearts, Tweedledee, the Cheshire Cat, March Hare or the true Caterpillar. Or maybe some talking flowers. I might have already found them all.
Thank you to all my lovely blogger friends, old, new, and yet to be discovered. Your friendships and expressive posts have kept me well informed and delighted. The tea parties around here are just fantastic!
Please allow me to thank some extra special friends for all the kindness and goodwill shown me regarding book reviews, author interviews, encouragement and fine friendships. You have kept my little world afloat and for that I thank you. I appreciate all of you so very much.
Let's start with the Wonderland Queen herself, Ms. Ronda from Ronda's Wonderland. Yes, there is such a mystical place in bloggerland! You never know what you'll find over there but you can bet it will always be magical. I get curiouser and curiouser every time I visit. She is a delightful hostess who can spin words like silk. You might find her in a field of talking flowers, so you can't miss her.
Moving on down the rabbit hole we discover an Ultimate Cheapskate! Hey, what the heck is he doing down here? Well, he is quite a colorful character and we bloggers like to save money, don't we? Jeff Yeager excels at this and can help you as well with his rich, humorous tips. You'll laugh all the way to the bank. Please do yourself a favor and check out his website and book The Ultimate Cheapskate's Road Map To True Riches.
Oh, look who else I've discovered. Stacy Post from A Writer's Point of View at
http://stacypost.blogspot.com
She's got the sweetest outlook on life and always has something spicy or sweet cooking over there. She can flood your senses with descriptions of everyday smells, sights and sounds. Don't miss the chance to be part of her sensational entourage.
Here is another character I've been blessed to discover. Georganna Hancock at A Writer's Edge at www.writers-edge.info/Blog.html There you'll find a treasure trove of wit and wisdom. She has more than enough to share with all. Geo is a true blue professional on all matters of publishing and writing. You won't want to miss her posts, bursting with knowledge learned from years on the front lines. She has been an inspiration to myself and many, many others.
Now who is that wee lassie flinging out glorious posts as fast as one can shuffle a deck of playing cards? Oh, it's Elizabeth, from Ramblings at www.elizabethre.wordpress.com . You can bet she'll keep you entertained and well informed with her unique spin on the world. There is always a burst of activity over there, fit for a queen or king. You will want to stop in for her fresh views on life and the way she weaves it.
We are now coming to the end of our journey and who should I meet but possibly Alice herself, all drenched with southern hospitality. In Deanna Schrayer's world, there is much to discover over at The Life of a Working Writer Mommy at writingwonder.wordpress.com
She'll not only keep you laughing and crying with her interesting appraisals of the world but also well fed with her mouth watering recipes, which usually have family stories attached. You can find these over at Deanna's Happy Accidents at
deannashappyaccidents.wordpress.com
---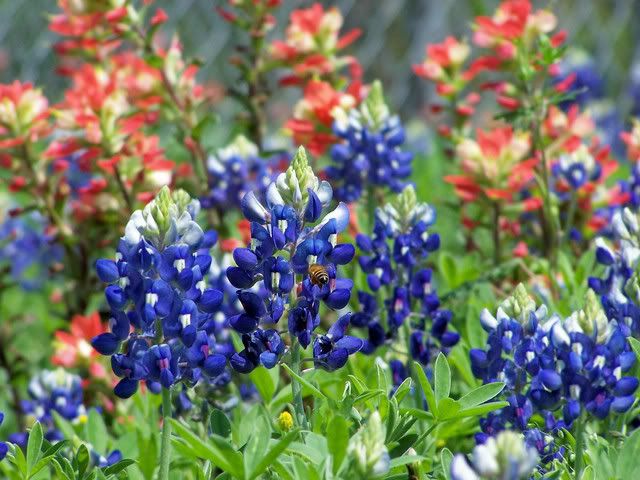 Something thrilling will happen soon and it has to do with nature intoxicating us once again with her charms. Right now old man winter has his white woolly blanket thrown over landscape's bed but hang on tight and a fresh morning will soon arrive.
Covers will be flung back, the bed sun-warmed. And then, popping through a steamy mattress of soil will be vibrant pink and yellow ruffled tulips and perfumed roses and multi-colored fields shrieking with evening primrose and baby blue-eyes. Our gardens will yawn first, and then shout with bullet shaped blue bonnets and crimson clover, like bright red tubes of lipstick. The days will lengthen; night caught short, the pungent smell of roots, new leaves and lavender exploding in air.
Prepare to feast your eyes on purple fhlox and red frilly poppies and lavender colored larkspur tightly packed around stems. And those mischievous robins will be back, too, excavating backyard worms in the midst of Indian paintbrush and rain lilies which open slowly at dusk to appear in full flower the next morning. Oh, and butter yellow corn flowers, we can't forget those loud ones, butterflies swooping around them like in air ballerinas'.
We will emerge,too, from dark winter houses, blinking and rubbing our eyes in sheer wonder at the rich, staggering beauty, scent and color surrounding us.
Here in Texas we also have many trees which riot with color and scent. Mountain Laurel, whose grape fragrance could rejuvenate a zombie and creamy tulip magnolia's, which remind me of generous scoops of vanilla ice cream. Lest we forget ornamental pear, exotic in lace, their lusty scent driving bees and butterflies wild.
Yes, spring will arrive. Sooner in south Texas, but even in colder climates it will come. Release your grip on the white quilt and keep an eye out. You can't miss the lacy bows and hot pink tights.
Speaking of hot pink tights, my colorful blogger friend, Ronda at rondaswonderland mentioned the 5th Annual Cyberspace Poetry Slam on her latest blog entry. She has a hothouse of ideas over there, so please pop in and say hello if you have a chance. I hope some poetry finds you as well. Here's a wee one of mine to share.
Flower Pageant
There is a garden I know
Where opulent flowers grow
And birds rally there, lizards, too,
Perch on hems of daisy's, that's what they do.
They laud flowers modeling exquisite dresses,
Roses in hot pink, passion flowers red tresses,
But when it's time to choose a winner,
Birds fly home for dinner.
The lizards with bubblegum pouches,
Linger on verbena couches,
Puzzled at what to do,
Knowing they must say who.
Flower girls hold heads tall,
Daisy, Rose and Poppy, all dolls,
In closing throw a celebration ball,
For a flower pageant has no stiff laws.
---